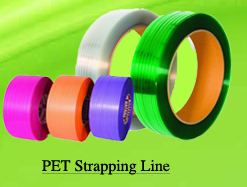 PET Strapping Line
Pet strap, a new environment-protective packing material, has been widely used in many different fields such as ceramic industrial, wood industry, can packing industry, fiber packing, steel industry, architecture materials binding, paper plants , aluminum ingot, chemical industry and so on.

Specifications:
PET packing straps for manual, automatic, semi-automatic
Width: 9mm. - 19mm.
Thickness: 0.6mm - 1.0 mm.

PET strap has many advantages:
1) Excellent Tensile Strength and Welding Strength;
2) Splendid Tension Maintenance;
3) Good Rusty and Chemical Resistance;
4) Safe and convenient for operation without the sharp edge;
5) Alternative colors according to the packing style;
6) Easy, safe and economical to use
We are able to produce PET strap with different sizes according to different needs.